Anne Park Brinckman - Attorney at Law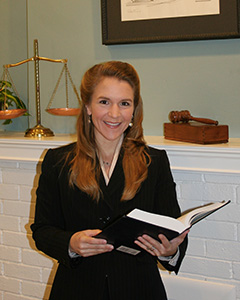 Anne Park Brinckman was born and raised in Blacksburg, Virginia. Her practice currently emphasizes divorce and custody litigation, adoption, criminal defense (including DWI/DUI and serious traffic offenses), employment law, general civil litigation, and representation of the Montgomery County Department of Social Services in child abuse and foster care matters.
While at Virginia Tech, Anne participated in the Honors Program and was inducted into Phi Beta Kappa National Honor Society as a junior, an honor that required her to be in the top 1% of her class. She was awarded the Dean's Scholar Rising Senior Award for the entire College of Arts and Sciences. She made the Dean's List every semester enrolled and was awarded both of the two awards given by the Sociology Department annually at graduation for outstanding service and academics and for the highest grade point average. Throughout college, Anne participated in a number of public service activities and, for two years, served as Head Resident Advisor of a dormitory, supervising a staff of five resident advisors.
After college and after working as a foster care social worker for several years, Anne moved on to attend law school at William and Mary. Anne graduated the law school as a Legal Skills Scholar as one of only 16 students recognized every semester for excellence in research, writing, analysis, trial and appellate practice, and client relations. She also served as a Teaching Assistant in the Legal Skills Program as one of 10 third year law students to assist in teaching Legal Skills to first and second year students. Anne participated in William and Mary Journal of Women and the Law and was awarded a Dean's Certificate upon graduation for outstanding contribution to the law school. In addition to excelling academically, Anne served as an Honor Council Justice and as the student representative on the Law School Outreach Committee of the Virginia Bar Association's Community Service Program. Anne was also the Volunteer Coordinator for the Public Service Fund and was a Virginia Bar Association Community Servant, dedicating a minimum of 50 hours of service annually by participating in legal clinics run by the local Legal Aid Society.
EDUCATION
Juris Doctorate:
The College of William and Mary,
Marshall-Wythe School of Law,
Williamsburg, Virginia
B.S. (Sociology with minors in Women's Leadership and Women's Studies), Summa Cum Laude:
Virginia Tech,
Blacksburg, Virginia
ADMISSIONS
Admitted to practice by the Virginia Supreme Court
ORGANIZATIONS
Virginia State Bar
Virginia Bar Association
Montgomery-Radford Bar Association, Family Law and Criminal Law Section
Virginia Women Attorneys Association, New River Valley Chapter
PRACTICE AREAS
Divorce, Custody and Adoption - Anne has experience with fault and no-fault divorce and with simple to complex custody matters. Anne understands the difficult and emotional nature of family law matters and gives time and care to help her clients identify their goals in these cases. She helps clients understand the various options available and the process through which those goals may be reached.
Anne's background in social work and her representation of the Montgomery County Department of Social Services provides her with an excellent foundation for navigating complex custody matters. Someone seeking custody of a child must demonstrate a full understanding of the child's needs and the ability of the prospective custodian to address those needs. Anne's knowledge of child development and experience with community resources for children allow her to develop a strategy and help her clients prepare from the earliest stages of a custody case.
Criminal Defense - Anne's criminal defense makes up a substantial portion of her practice. She has appeared as defense counsel in the counties of Montgomery, Giles, Pulaski and Floyd and the city of Radford. She offers representation in both felony and misdemeanor cases including DUI and serious traffic offenses, drug possession and distribution, alcohol offenses, assault and battery, weapons offences, larceny, and various other property crimes. Anne worked for a short period of time as a prosecutor and this experience lends to her ability to analyze and assess the defenses available to her clients and to work with prosecutors to obtain the best outcome for her clients.
As a criminal defense attorney, Anne's first goal is to get the case dismissed. Anne has handled numerous cases involving charges including DUI, drug charges, alcohol offenses, assault and other various charges. Based on the facts and circumstances in a particular case, however, dismissal may not be an option. In such cases, Anne works to achieve the next best outcome. Anne has a good working relationship with the Commonwealth's Attorney's Offices in the area and if there are no viable defenses for a defendant, she will work with prosecutors to negotiate the best plea bargain possible.
Civil Litigation - Anne offers representation in civil matters, including personal injury, fraud, negligence, breach of contract and fiduciary duty, will contests, business disputes, partition and other real estate litigation. Anne's success in civil matters is the result of her extensive preparation, and her ability to present complex cases clearly and concisely to the judge or jury. She is able to draw upon her recognized training from William and Mary School of Law to synthesize a large number of facts about each client's case in a short period of time, and then apply the law to those facts accurately and persuasively.
Employment Law - Anne gained an interest for employment law in law school taking courses related to employment. While Virginia is an "employment at will" state, Anne has successfully assisted clients to navigate internal grievance procedures to reach a favorable outcome. Anne understands that employment issues can be both financially and emotionally stressful and works to help her clients have an understanding of the process she is helping them through and the possible outcomes.
PERSONAL
Anne currently lives in Blacksburg with her husband, an executive-director of a local non-profit, son, and their pets. She enjoys hiking and other outdoor activities and spending time with her family.